At the end of every month, we introduce you to another member of the Stak production team. And now that May has come and gone, Finn's off the bench!
Finn joined Stak along with Natalie in early September. As our resident Northerner, Finn has bravely endured a great amount of playful ribbing during his time with Stak. When he's not off visiting Greggs for lunch (often accompanied by Nat), Finn works as the Assistant Producer for the Ramble. He works on all sorts, from video editing to social media assets and the Football Ramble Patreon (he is behind the monthly Ramble On blog)! He's also recently begun work on a rather exciting - but secret - project.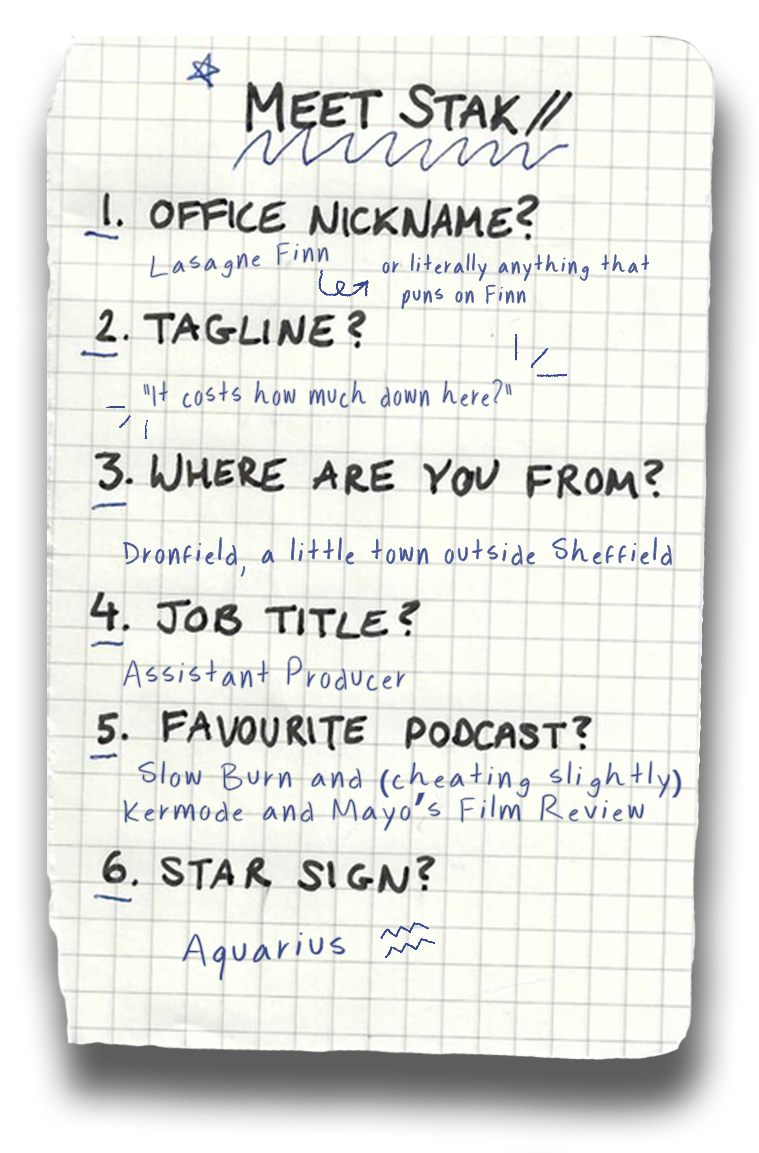 1. How did you come to join Stak?
I always thought I'd force my way onto some poor unsuspecting company by doggedly doing work experiences and internships until they simply had to keep me, but how I ended up joining Stak was wonderfully straightforward.
I finished my degree last summer and set about applying for all kinds of jobs in media and journalism - always with an eye for any openings in sport, football especially. Then one day my brother sent me a tweet from the Football Ramble account advertising the AP position with the show: it was just the dream opportunity. I'd listened to the Ramble since 2014 and even (with what I thought was plenty of irony and self-awareness, but probably not really) set up a football show at my university radio station completely modelled on the podcast's blend of honest insight and irreverence. So I went for it, with not much hope of success. Myself and Nat were both taken on as production assistants in lieu of a fully-fledged AP and the rest is history!
The Ramble and its sister shows were very much my access point into the Stak universe, so discovering the other podcasts and projects in pre-production across the company has been an absolute joy. Hats off to Joel and Adam of The Offensive in particular for creating a show that I unflinchingly binged like no other podcast before.
2. What is your history with podcasting and audio?
As I mentioned, some of my experience in audio came at the University of Cambridge's radio station, Cam FM, where I was boldly titled Head of Sport for two and a half years. We did live football commentaries – often at the side of a muddy field with a table, a couple of headphones, and a single bar of 4G – and even the cricket Varsity at Lord's, which was a really special experience, despite my painful lack of cricket knowledge.
There were more amateurish exploits: from a tennis podcast recorded in my bedroom to countless music shows on Sheffield Hospital Radio in my teens. It's easy to be snobby about Hospital Radio, but they gave me the room to make mistakes and develop a passion for broadcasting and audio – precisely because we had absolutely no listeners. Not one.
Without getting too dramatic about it, I think I've always had some weird intrinsic pull towards audio and the spoken word: I couldn't speak properly until I was 5 or 6 years old and my parents would put on cassettes of Ancient Greek myths on this big old karaoke machine me and my brother had in the corner of our bedroom to help me learn as we went to sleep. As I got older, I'd put on late-night BBC Radio 5 Live football commentaries and then later on it became podcasts like the Ramble - endlessly extending the sleep timer on my phone to listen just a bit longer. People always say that audio creates a special kind of intimacy for its audience: I couldn't agree more.
3. What's your current obsession?
I'm easily hooked on things - as my run to the semi-finals of the Champions League with MK Dons on Football Manager 2012 can testify - but I'm split on multiple fronts at the moment.
I'm enjoying discovering some of the new corners of football YouTube, like Umm and a few other channels (my last taste of it was KSI doing FIFA videos in 2011, to be frank), and I'm very late to podcasting's true crime scene, having just blasted through West Cork which is a stunning listen. Our boss, Jon, also very kindly gifted me a book at Christmas - Vasily Grossman's 'Stalingrad'. It's not a light read and I'm a bit conscious that Mark from Peep Show also carries 'Stalingrad' with him to work, but my word Grossman is an incredible writer. I can't put it down.