Welcome back to another installation of MEET STAKHANOV! Yet another month has flown by, and we're back to highlight another member of the Stakhanov production team.
And March belongs to Beth! Beth is one of our team's two newest members, who had the misfortune of joining us a week before the second lockdown began. Beth is the brains behind our newest show My Seven Wonders with Clive Anderson - co-produced with Alaska TV. This absolute audio machine produced, coordinated and organised the launch of My Seven Wonders. All that - entirely remotely! Beth's also been working away at some secret projects, so be sure to keep an eye out for some exciting new podcasts coming your way soon.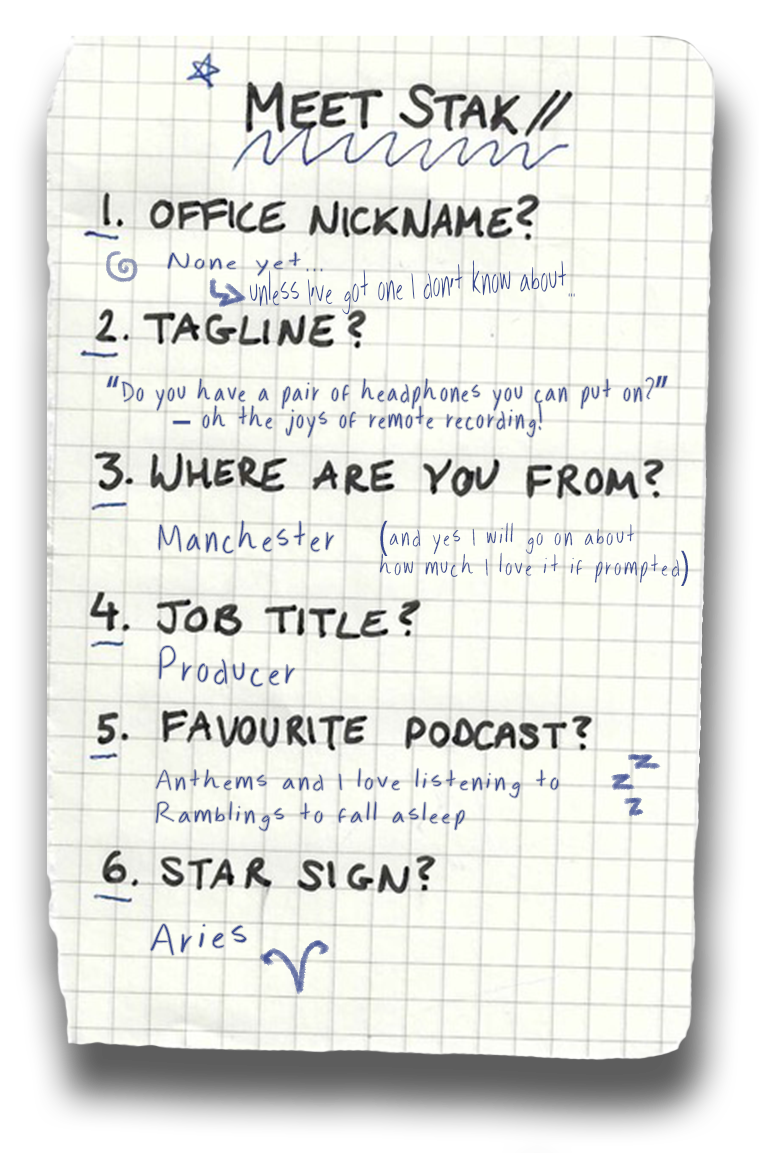 1. How did you come to join Stakhanov?
I've been working in commercial radio for a while but wanted to make the move fully into podcasting so I was just doing as much as I could in the meantime – producing at Radio X, doing a show on Resonance FM and taking any other opportunities that came along. One day I saw this job come up at Stakhanov and I thought it sounded perfect so I applied.
Despite doing my interview while staying at my friend's house in the Lake District with a very precarious internet connection and an ad-hoc desk set up, I got great vibes as soon as I spoke to Luke and Jon.
2. What is your history with podcasting and audio?
Like lots of people, things started for me with student radio. I had a weekly live sessions show with my mate where we'd get local bands to come and play in our tiny shoebox of a studio then interview them after and we had such a good time doing it. When I moved back home after uni I joined the online station Reform Radio in Manchester and just started applying for loads of things until eventually, I landed an internship at Radio X on The Chris Moyles Show.
Looking back now, that was a mad time – one of my first days involved the team racing life-sized plush ponies around Leicester Square live on the radio. From there I just kept plugging away with things taking any opportunities I could at Global until I got a producer gig at X. I worked on some amazing shows there including Communion Presents, the Sunday Social, Elis James and John Robins and Ed Gamble and Matthew Crosby, all of which were so much fun and I learnt a lot from doing. Some such lessons were what to do when a computer system crashes and you've got a link coming up in 30 seconds or how to reign in a presenter making inappropriate jokes on the air.
3. What's your current obsession?
I spend my days living vicariously through YouTubers now. I have spent longer than I care to admit watching youtube commentary videos (I definitely blame lockdown for this) but mostly I love watching channels of people who live near the sea! I am dying to go to Brighton when restrictions ease a bit and I have been meticulously planning a trip for too long now.
Apart from that, I have been loving listening to Foundation FM. It's a great online radio station based in Peckham. They have some amazing people on there and some really interesting conversations – I especially love Kennedy Taylor's Friday Brunch show.