Another month, another installation of MEET STAKHANOV! In these monthly articles, we're highlighting a different member of the Stakhanov behind the scenes team to get to know them a little better.
This month, we're chatting with Katie, the producer of JaackMaate's Happy Hour and the editing wizard behind all of our fabulous house ads and sponsored content. Pre-lockdown, Katie could always be counted on to show up in cool t-shirts and to set the Stakhanov office vibe. An avid music fan (123.5K minutes listened according to her 2020 Spotify Wrapped), Katie can always be trusted with the office speaker - called "Tunes O'Clock," by the way. Her formula? Start with a solid house mix and finish strong in the evening with some Lady Gaga and Dua Lipa (the latter being Charlie's contribution).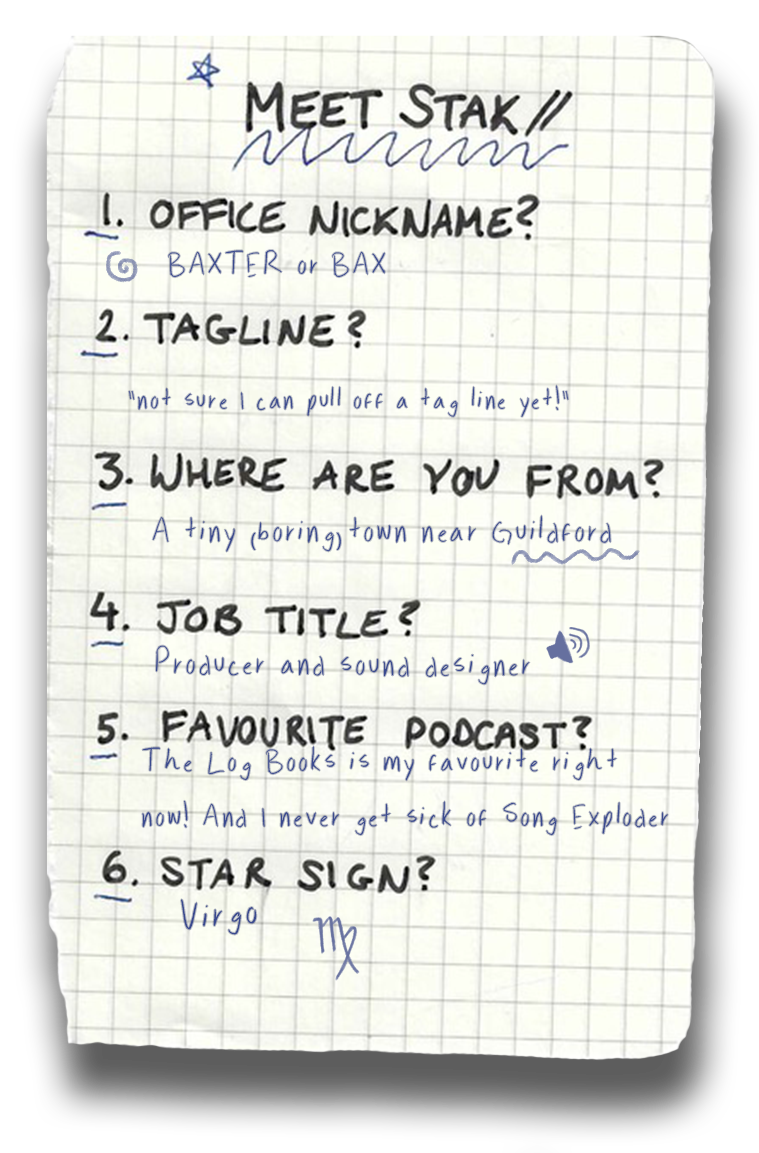 1. How did you come to join Stakhanov?
I got an email from Stakhanov in my final year of university saying they had a vacancy and had heard about me from a radio station where I'd done work experience. They invited me to come and see the studio, so I caught the bus down from Nottingham to London and met the team. I wasn't really too sure what I was getting myself into at the time because I'd never been involved in any podcasts before, but I instantly got a good feeling about the company and I was really excited when they offered me a job.
Once I graduated, I went travelling for six weeks and then came straight to Stakhanov. I was really lucky to go straight into the industry and I couldn't have asked for a better place to start my career.
2. What is your history with podcasting and audio?
I've always been a massive music fan, so when I went to university I got really involved in my student radio station, URN. I quickly fell in love with it and after entering the Student Radio Awards, I was offered a weekly Production Internship at Capital East Midlands, which I did (and loved) for almost two years. Around this time, I also did a Music Programming Internship with Channel 4's Box Plus Network and some work experience with Absolute Radio. I was Head of URN in my third year too! These roles were all huge opportunities for me that taught me a lot and they inspired me to get into broadcast media.
Since then I've worked on a load of podcasts at Stak, all of which I'm very proud to have been a part of. The shows I produce at the moment are JaackMaate's Happy Hour and the Football Ramble - and there are three really exciting new projects I'm working on at the moment. I'm determined to make 2021 Stak's biggest year yet!
3. What's your current obsession?
My main love will always be music. I love DJing, going to gigs and listening to music at pretty much any opportunity. I also really love travelling! I've spent time in loads of amazing countries like South Korea, Georgia, Japan, Azerbaijan… I love seeing new places and learning about different cultures. I'm super looking forward to being able to do that again in the years to come.
My current obsession has to be RuPaul's Drag Race UK. Back when clubs were open I used to go to Heaven and Dalston Superstore all the time and they've always got amazing drag events going on. So whilst we've been stuck in lockdown, I've been absolutely loving Drag Race UK.