In the blink of an eye, we've already reached the end of April! Crazy. At the end of each month, we pull back the curtain and highlight a different member of the Stakhanov team - and April belongs to Natalie.
On her first day of work, Nat waltzed into the office bearing donuts for the entire team - cementing then and there her reputation as the office snack icon. When she's not supplying the office with biscuits and croissants, Nat works across many Stakhanov shows. Outside of various odd jobs, Nat works as the assistant producer for Between The Lines with Melissa Reddy (and even interviewed Melissa on Between The Line's recent episode on sexual harassment in football) and produces The Luke and Pete Show.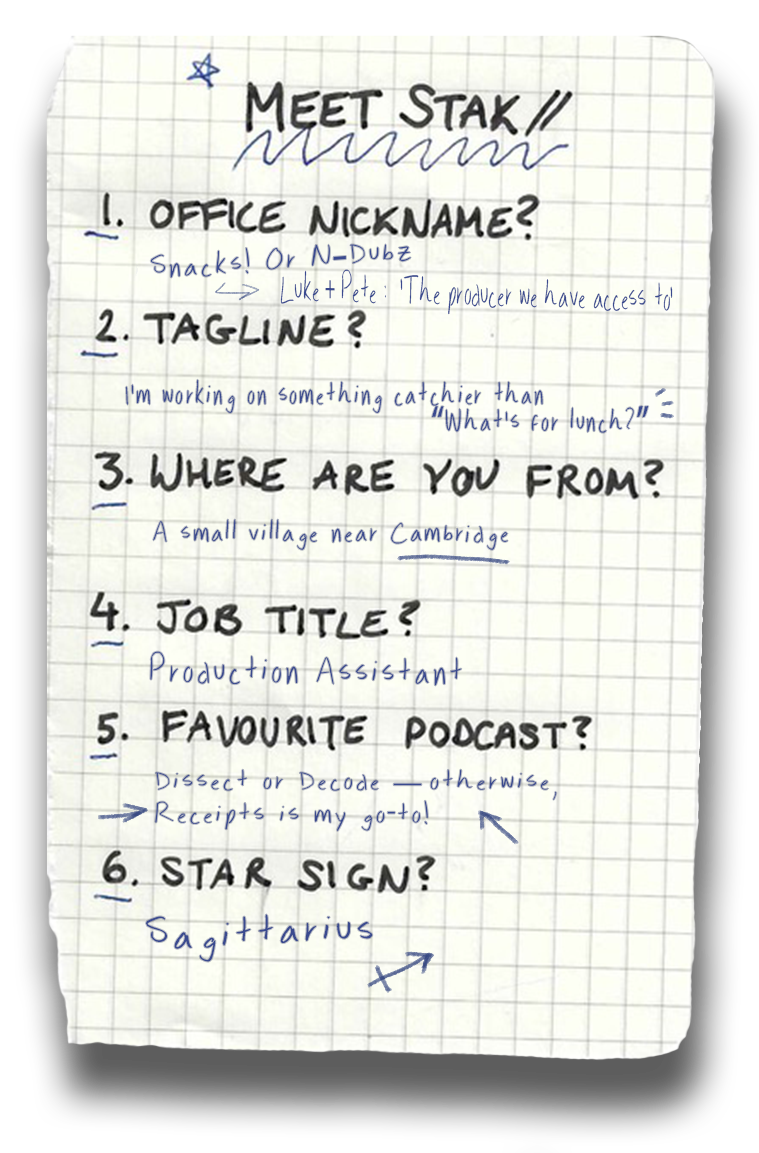 1. How did you come to join Stakhanov?
It all started with the Football Ramble - supporting a team like Spurs, you learn to love the banterous side of the game and after my Dad introduced me to the show back in 2018, it became my go-to for football laughs and insights. Since then, I graduated from university and began regularly checking to see if there were any work opportunities going on at Stakhanov, and was over the moon when a production assistant role appeared. My interview and first day meeting the team immediately gave me a great feeling about Stak - everyone's so down to earth, always around for a chat, and full of energy, talent and good humour. I guess that's what top tier podcasting's all about though, so it was no real surprise.
Working for Stak after years of listening to the shows and ambitions of working within audio production has been an absolute dream for me. After only 6 months of being here, I've been part of many phenomenal shows, interviews, exciting new ideas and even the odd socially distanced team pizza night.
2. What is your history with podcasting and audio?
I've been the biggest music fan since before I can remember. I grew up playing the piano and guitar as well as messing around with old soundboards and veered further and further into sound production during sixth form - where I worked on soundtracks for various school productions and coursework pieces using Sibelius and Logic. My electric keyboard comes with me everywhere- from old bedroom floors to remote assembling on beaches and rooftops for music video filming, to now sitting in my new flat in central London. I'm hoping it can come in handy to create some sound beds and themes for future Stak shows!
While previously working as a Personal Trainer, I briefly ran a very amateur podcast with some friends centred around female strength training and nutrition. It was recorded in-between sets and straight onto our iPhones while still out of breath, so the overall quality was very rough. It definitely got me intrigued as to how podcasts were edited and put together and inspired me to start learning basic skills on Audition. Since then I've worked in production on multiple shows at Stak and learnt an incredible amount!
3. What's your current obsession?
Following my ever-present obsession with food - particularly sweet snacks - I've been baking my own fudge (it's become an almost daily occurrence now) and testing out as many different flavour combinations as I can. I also recently discovered Binging with Babish's Youtube channel - he's a fantastic chef who recreates dishes from fiction, with recipes inspired by Breaking Bad, SpongeBob and everywhere in between. The Cake from Portal is a firm favourite of mine. I also recently held a series of five Come Dine With Me nights with my four other flatmates at home - we've had everything from fish pakoras and homemade pita bread to boozy tiramisu and giant churros - it was delightful!
Otherwise, now that restrictions are easing, I'm hoping to tick a few more travel destinations off my bucket list, starting with somewhere hot and as far away from Zoom calls as possible.