The change from the original Football Ramble show - four lads in a studio taking neither themselves nor football seriously whatsoever - to the Football Ramble Daily format brought about some exciting challenges. We wanted to evolve our football output to cater for a variety of audiences and to vary our content. In the last decade, football has become a visceral, ever-changing narrative that demands constant reinvention from its media coverage. The explosion of content beyond the traditional print medium has allowed for new voices to enter the fold and this has ensured that anyone resting on their laurels, or refusing to adapt, is left behind.
This is the challenge we kept a distinct eye on while workshopping and finalising new shows for the daily format we launched last August. We felt there was space in our new lineup for a magazine show that could cast an informed eye over the game's wider topics, while remaining lighthearted and engaging. With less of a structured to adhere to than the traditional football shows from the Stakhanov stable - which involve squeezing in wider topics around the necessary reviewing and previewing of matches - we could allow ourselves to take a more heads-up approach. We wanted to reflect the wider football conversation, often away from the ninety minutes on the pitch.
While a hugely exciting brief, it was not without its challenges. To cover these broad topics actually requires a honed understanding of our listenership and what people want to hear – just because we can cover anything, that doesn't mean we should. This was a personal challenge that I didn't fully appreciate until taking on the producer role. It is not enough to turn up with our two hugely talented broadcasters and simply push the record button. I normally begin looking out for a few topics that have a broad, but distinct, appeal whilst watching the weekend's football. They need to slot into the wider football narrative, but adhere to our own listeners' niche and interests. If a cursory glance at a story is at one end of the spectrum and forensic, esoteric dissection is at the other, we aim to find ourselves in the middle.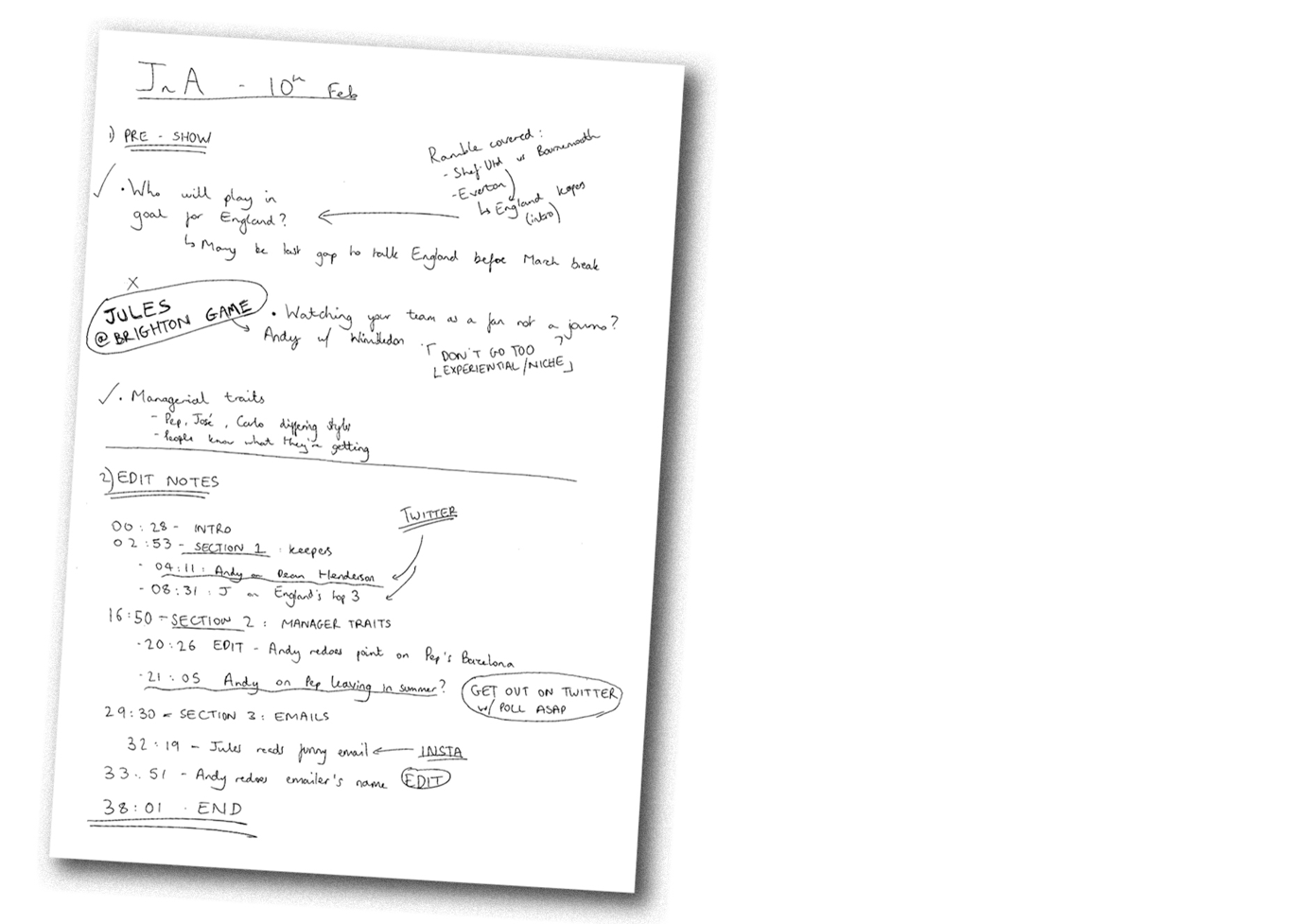 Of course, being able to talk confidently and accessibly about a wide range of topics requires two capable and learned hosts – in Jules Breach and Andy Brassell, we've certainly found them. Andy has worked with us for a few years on our European football show, but has been keen to host his own show and become more actively involved in the network. His encyclopaedic knowledge of football is truly amazing, if also slightly frightening, and he could happily wax lyrical about any story I throw at him. Jules is new to Football Ramble Daily this year, but any casual football fan will have seen her effortless hosting skills for BT Sport and Optus Sport over the last few years. When the chance to work with her appeared, it was an immediate no-brainer – she's sharp, engaging and has a real ear for what our audience want to hear.
Crucially, we didn't want the dynamic to fall into a 'host and pundit conversation as per Jules and Andy's respective experience, where Jules asks the questions and Andy answers them. We want Jules to be able in give her opinion on the stories we discuss and also to allow Andy to help steer the show. Searching for this dynamic yields no definitive answer, but more an innate feeling. I think that, over the course of the five months we've been recording the show, we've got more of a honed idea about how that plays out in the studio.
When we meet on a Monday afternoon (after the customary chat about our weekends and which of our respective teams had a nightmare), we each propose a couple of topics for discussion. These usually filter into each other without any prompting, which makes for an smooth planning process. We aim for two or three broader topics, broken up by some listeners' correspondence. We're then straight into the studio. We record as-live (though the odd incorrect date does occasionally sneak in, such is the nature of recording a day early) and aim for 45-50 minutes. I listen to the show and frantically scrawl down some edit notes, which involve edit points and clips that might work well on our social channels the following day. I then send that recording off to our esteemed audio editor who turns it round before I'm even off the tube on my way home, even if we've recorded the show at 22:00 after a Monday night game finishes. It's then a case of scheduling up the episode to be released overnight, and collating various bits of copy for our team to use the following day. And our listeners wake up to a fresh episode of Jules & Andy every Tuesday morning!
Listen to the latest episode of Jules & Andy on Football Ramble Daily here.