Welcome to the first installation of MEET STAKHANOV! Every month, we will be highlighting a member of Stakhanov's exciting production team - those unsung heroes behind each and every one of our podcasts, tapping away at keyboards and frantically hitting save every 10-20 minutes on their Audition multi-track.
First to the plate is Charlie, dîtes Chaz. Of the 7 of us, Charlie has been with Stakhanov the longest and oversees the production of the Football Ramble and Between The Lines with Melissa Reddy. When he's not buzzing around the studio or listening to the Ramble, Charlie's always down to help you figure out how to export from Adobe After Effects (why the hell are there so many steps?) or to assure the newbies that whatever mistake they've just made is, in the grand scheme of things, not that big of a deal.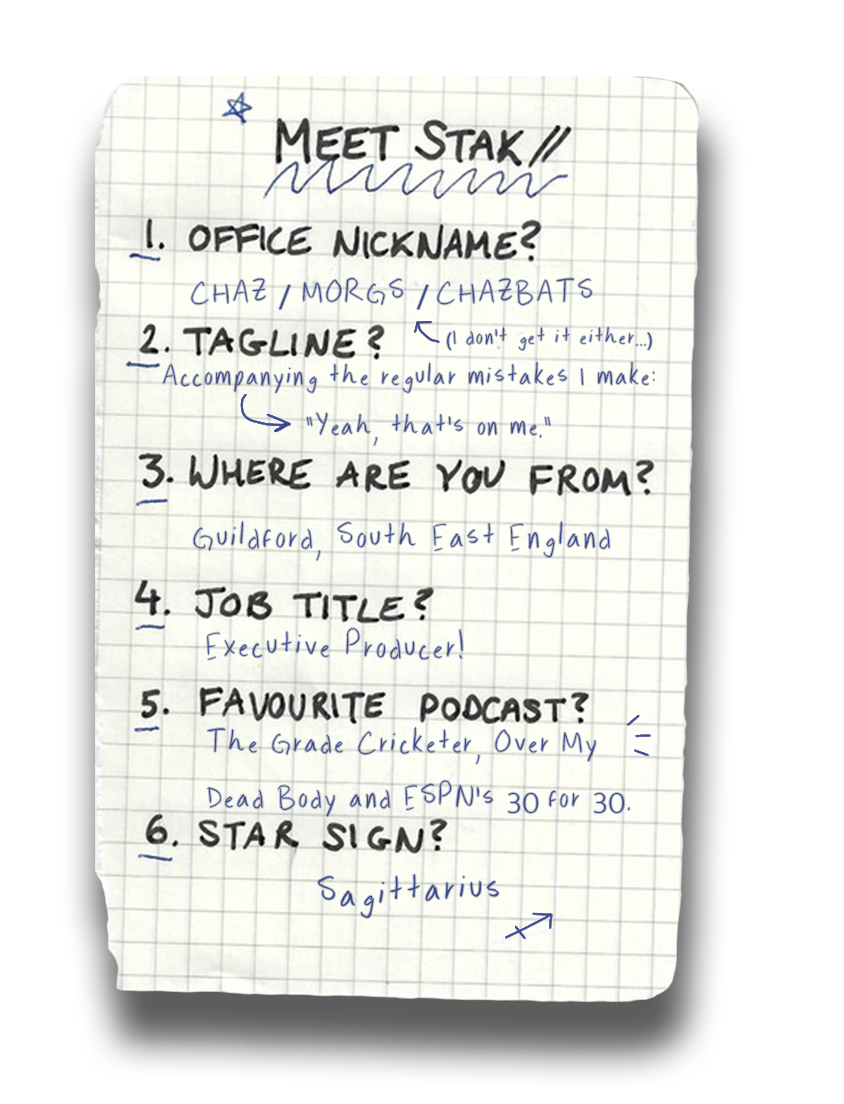 How did you come to join Stakhanov?
Through humbling fortune and blind persistence, really. I was a fan of various Stakhanov podcasts back in 2018 and messaged one of the shows on Twitter asking if Stak had any work experience openings and after meeting the team in November 2018, they offered me a trial doing some social media on the weekends for the Football Ramble. I was essentially being paid part-time to tweet about the football I'd have happily watched for free!
I worked away at that for a few months and was offered a permanent position afterwards: first in Social Media and then in Operations. I went from there to my current role as Executive Producer through sticking at it, endless amounts of excellent guidance from my colleagues and a hefty slice of luck.
What is your history with podcasting and audio?
Weirdly, I never listened to much radio growing up - I was probably among the first generations that turned to TV and the internet instead. I immersed myself in audio more at university, where I'd offer up my uninsightful nonsense on the student radio's sports show, as well as writing for the Uni paper. I started to take it more seriously when I realised my actual degree didn't interest me at all, though I'm not sure I ever truly thought I could get into it as a career.
Then, like most sheltered young men doing anything to avoid some stark introspection, I recorded my own podcast with some friends for a while. We only did about ten episodes - all about the 2018 World Cup. It ended up being a lot of fun and sparked a passion for podcasting and sports audio that I doubt will ever go away. The final product was of severely mixed quality, mind – we recorded one in a pub after an afternoon's indulgence of football and lager. Listening back, it's remarkable that I thought it'd be worthy of broadcast. Shocking stuff.
What's your current obsession?
Boringly enough, a consistent obsession is watching and reading about football. The drama and nonsense that swirls around it 24/7 just fascinates me.
Elsewhere, I've become obsessed with pizza dough. Yes, the lockdown has been a tough old time. My delightful other half bought me a portable pizza oven, so any time away from work is spent thinking about dough hydration percentages, topping combinations, oven temperatures, wood moisture content and working out what ingredients I'm going to buy from the local Italian deli when it reopens.
Who knows. If football collapses under the weight of its own self-importance, maybe I'll open a pizza restaurant.