Every December for the past few years has been punctuated by the release of Spotify's yearly wrap up. Following their growing interest in the podcasting market, Spotify placed podcasts stats front and centre this year, offering "a deeper dive into podcast listening, complete with how many minutes users spent listening and the most binge-worthy podcast of the year." As a result, Stakhanov's various social channels have been flooded with listeners sharing their podcast habits and expressing their love for our shows.
Stakhanov are proud to announce that this year on Spotify, Football Ramble is the 7th biggest UK sports show, The Luke and Pete Show is the 86th biggest comedy show, and Clash of The Titles has climbed to the 6th most popular TV and Film show in just a year and a half since its launch.
This year, our biggest podcast, Football Ramble saw an 85% increase in Spotify subscribers as well as a 91% increase in streams on the platform. The Ramble also spent 110 days in the Spotify UK charts, peaking at number 10.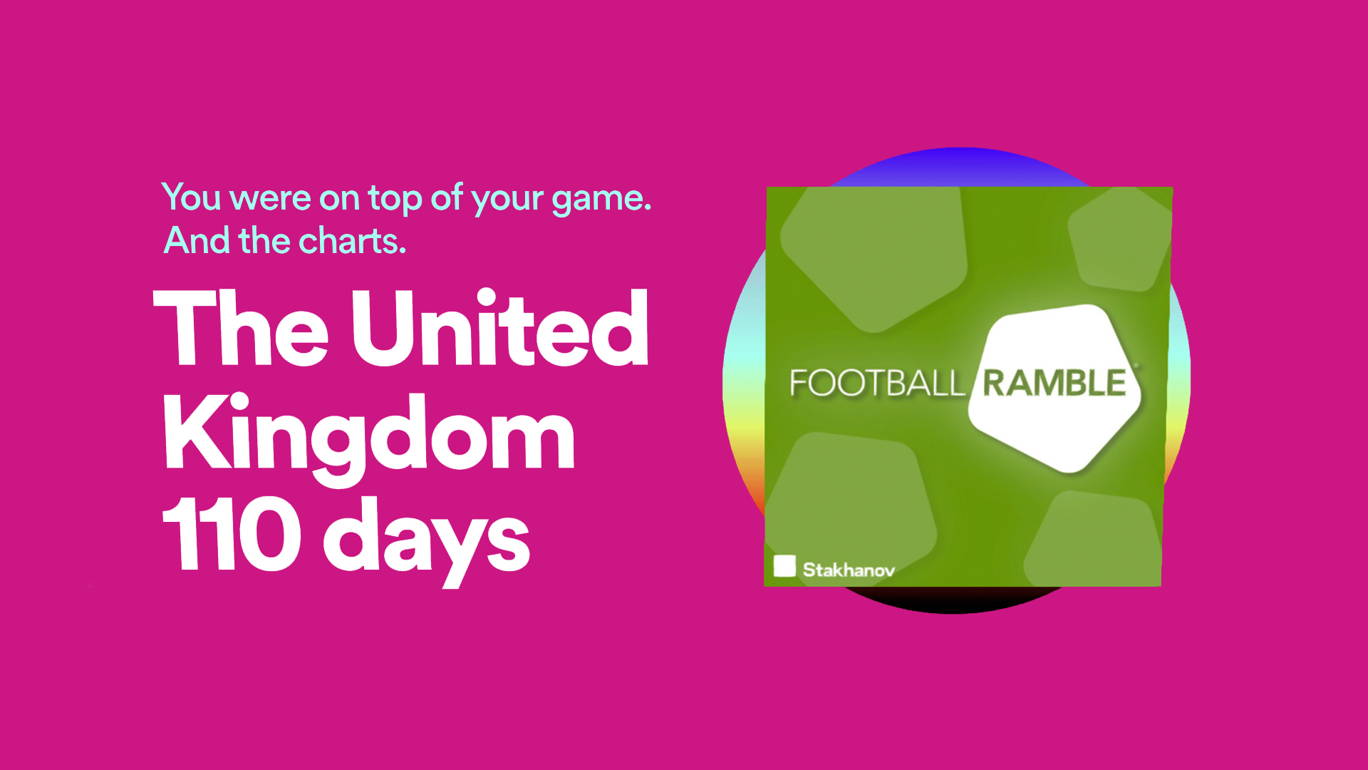 JaackMaate's Happy Hour signed a multi-year licensing deal with Spotify back in September, making the podcast available only on Spotify. Happy Hour saw an impressive 213% increase in followers as well as a 239% increase in streams, and spent 110 days in the charts of 7 different countries - with its peak position at number 2. JaackMaate's Happy Hour is the 2nd most popular comedy podcast in the UK, and over 100,000 people listened to Happy Hour more than any other podcast.
As for Stakhanov's other shows, Wrestle Me saw an increase of 155% in followers and 176% in streams. Clash of The Titles spent 4 days in the UK Spotify charts, peaking at number 41. The Offensive increased its Spotify followers by 114% and spent 61 days in the UK charts. Finally, 20,000 listeners listened to Abroad In Japan more than any other show!
Despite the difficult year that was 2020, Stakhanov is grateful to observe the flourishing of so many of our podcasts. Thank you to our listeners for a great end to an otherwise bleak year, and we look forward to more growth and quality content in 2021!